Rotherham Metro ASC
The home of competitive Swimming, Diving and Water Polo in Rotherham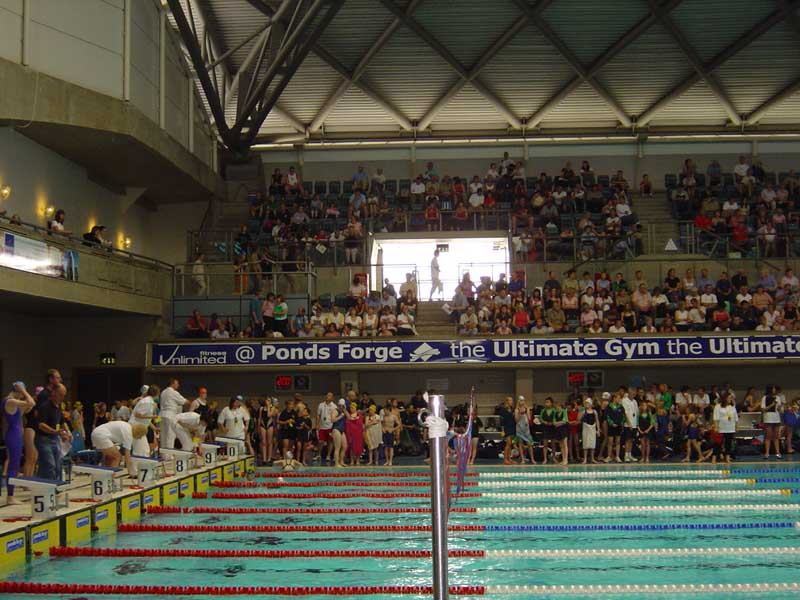 Ponds Forge Galas
Rotherham Metro will once again host a number of galas at the prestigious Ponds Forge complex in Sheffield in 2006. The year commences with the Long Course A/B Grade Meet on January 21st 2005 and the Long Course Masters Meet on January 22nd 2005. On May 21st and 22nd 2005 we hold our premier meet of the year, the Long Course Licensed Level 1 meet, a great opportunity for swimmers to gain National Qualifying Times. Then on July 22nd and 23rd we hold our Short Course Graded Meet.
Programs for January B Grade and Masters Meets
The final read only programs for our January 21st 2006 Graded meet and January 22nd Masters Meets are now available together with Club entry list. Updated as at December 30th 2005.
Important Update!
The club announces that it will be operating separately from Rotherham Borough Council with effect from January 3rd 2006. Read about these exciting changes!
Swimmers Required
As Metro start a new phase of their existence under Head Coach Alan Kirton we have space for new swimmers interested in reaching County and Regional standard.
Meet the Coaching Staff
Our new coaching staff will be at Maltby pool on December 18th, so come and meet them and understand how they will approach the task of coaching your children.
Barnsley and Bradford Christmas Meets Report
Many of Metro's swimmers attended these fun meets, the Level 1 Open at Bradford and the Barnsley B and C Grade at Ponds Forge.
South Yorkshire Masters
Karen Holden makes a dramatic return to competitive Masters swimming and wins three Gold Medals at the competition held at Ponds Forge on December 4th.
NER Senior/Juniors
A small contingent of swimmers came away from the Leeds based competition with medals going to Alistair Crawford and Catherine Taylor
Christmas Disco
Tickets are available from any Committee member for the Christmas Disco to be held at the Pitches club at Wickersley Road.
January Graded Meet is now full
Unfortunately our January 21st 2006 Graded meet is now full. We are running a further two day graded meet in July, go to our galas page for further information
January 2006 Masters Gala
Entry forms and details of the gala are now available on our gala information page. This is a great opportunity for Masters swimmers to compete long course in the fast pool at Ponds Forge.